Parasailing
Through the years, we have flown thousands of people high up in the sky, but forget the old-fashion way of taking off from the beach and landing in the water. Now with our high-tech, powerful and spacious Parasailing boat, we will lift you 600ft. up in the air and safely-comfortably land You back on the deck-platform of the boat.
NO LANDINGS IN THE WATER
ANYONE CAN DO IT.
Up up and away come and fly with us across Fig Tree Bay.
It's EASY AS
ONE

We harness you up and make sure you are safe to fly.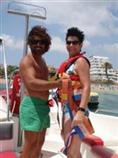 TWO

Ready, steady go You will take off from our specially constructed Platform on the Boat.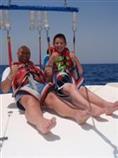 THREE

You are in the Air and enjoy the Views across Figtree Bay